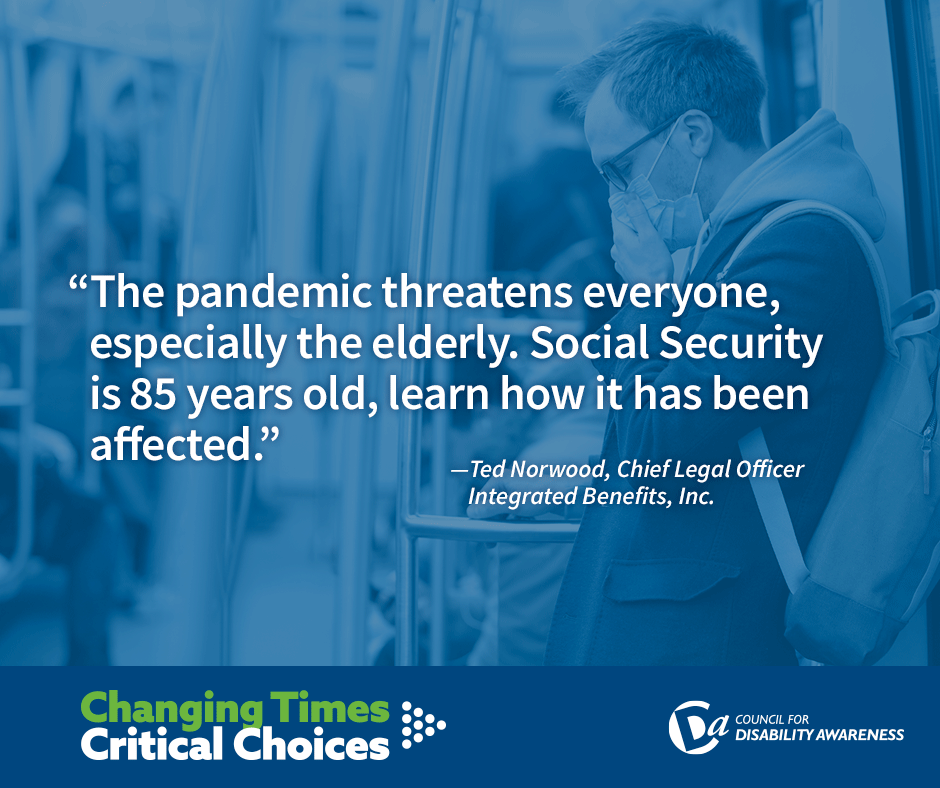 Though COVID-19 threatens everyone, the elderly face the greatest peril, including – possibly –the United States Social Security Administration. SSA turned 85 years old in August 2020, and it is time to check in on how the pandemic is affecting the department.
Social Security administers retirement, Social Security Disability Insurance, survivor, Supplemental Security Income (similar to SSDI), and Medicare enrollment. Many disabled or retired people depend upon Social Security's services. While people often can conduct their Social Security business online, many people still need or want to talk to someone in person. Unfortunately, many of these same people have elevated risk factors for COVID-19. And the pandemic has affected how Social Security functions, how it evaluates cases, and its finances.
General Overview of How Social Security is Functioning
Social Security closed its offices to the public on March 17, 2020, but it kept its phone lines and website going. SSA encourages people to try to find the information they're seeking on the website first. They have shifted all SSDI hearings to the phone and are testing video-conference hearings using Microsoft technology.
SSA also streamlined its work. It temporarily stopped pursuit of overpayment collections and continuing disability review hearings until recently. Some Social Security workers have returned to offices, but many are still teleworking.
People still can file for retirement, disability, Medicare and other benefits. Disability adjudication continues, and people can still get new Social Security cards, update information and so on. SSA has more information about the impact of the coronavirus on its operations on its website.
Overall, Social Security has done a solid job of persevering in the face of COVID-19. Calling SSA may be a somewhat miserable experience, but it was that way before the coronavirus and you couldn't really expect service to improve during a pandemic.
SSDI Evaluations
Disability evaluations continued during the pandemic, but there have been some complications. The first level of disability adjudication takes place at state agencies funded by SSA. The state agencies have varied in their responses. Some closed for periods of time while others experienced little to no interruptions. Safe distancing requirements limited the ability to have "consultative examinations," in which Social Security sends a claimant to a doctor for an examination and assessment. Though usually of poor quality, these examinations are common and often necessary. Recently, SSA started having limited numbers of in-person examinations.
Fortunately, SSA adopted a relatively progressive position at their Administrative Law Judge level. Social Security is holding hearings by telephone and will soon offer video hearings through Microsoft Teams. Technical difficulties plagued the phone hearings at first, but SSA invested in technology upgrades and the quality improved. These hearings allowed adjudications to proceed without exposing claimants, representatives, judges, experts or staff to unnecessary contact. Claimants retained the right to wait for an in-person hearing, if they insisted upon one. There will be a long wait before SSA can accommodate those requests. Social Security does not currently have any plans in place for resuming in-person hearings.
Additionally, SSA has continued to improve the wait time at its Appeals Council (the step after an ALJ hearing). The Appeals Council evaluations are faster than at any point I can think of in the past 13 years. A three-year wait in the past has fallen to six months – and sometimes less.
Unfortunately, at federal district courts, the pandemic has slowed cases because SSA allegedly cannot produce its official transcripts quickly enough.
The other downside was some significant delay in adjudication. SSA struggled a bit to get clear information out to claimant representatives and hearing offices. There were several periods of uncertainty. That uncertainty combined with work delays reduced overall awards, especially during the spring and summer. As the new normal settles in, workloads and production are improving.
Like Social Security's disability adjudication in general, the response to COVID-19 had some good and bad moments with an overall passing grade. SSA has a long history of successful telework and that served them well in their response. Plus, phone hearings have worked pretty well.
Money
Although Social Security handles Medicare enrollment, Medicare funding is different so I'm focusing on Social Security and its trust funds in this post. To best understand the impact, we'll look at the basic ins and outs of the funds. My intention is to provide an overview of the concepts.
Money enters the trust funds primarily through payroll taxes. We'll ignore other income sources because the payroll tax is 90 percent bigger than any other source. Money leaves the fund when Social Security pays benefits for retirement and disability. There are other benefits, including things like property, employment, and smaller benefits, but those costs are unimportant compared to the retirement and disability benefits.
Social Security's Income
Employers and employees pay 6.2 percent of all wages up to $137,700. The government does not tax wages after $137,700. If you make $137,700, you and your employer together pay approximately $17,000 into Social Security. If you make $200,000, you still pay $17,000. In 2019, these taxes generated $945 billion.
When the economy has high employment and growing wages, Social Security has strong income. Unemployment and stagnant wages hurt SSA's income. The pandemic has devastated employment. Wages are a topic for another day.
The decrease in employment has hurt Social Security's income. In July 2020, Social Security informed the US Congress that it could lose as much as 15 percent in income, but that 10 percent seemed more likely. Since then, that estimate could have improved or deteriorated – I'll leave that to the actuaries. The 10 percent estimate gets the idea across well for our purposes.
The important thing to remember is that the economic effects from the pandemic have hurt Social Security's short-term income. Depending upon the recovery, the long-term impact may not be so bad. There are many more factors, including politics, which I'm intentionally going to avoid discussing here.
Social Security's Spending
In 2019, Social Security paid about $900 billion dollars in retirement and survivor benefits. They paid approximately $150 billion dollars in SSDI (disability) benefits. A nice estimate is one trillion dollars in total. People collect these benefits by reaching retirement age or Social Security declaring them disabled. People can take early retirement at 62 and full retirement at 66.
Because the birthrate has been decreasing since 1950, each year fewer people are becoming newly retired, but at the same time life expectancy has been increasing. Thus, the number of retirement beneficiaries has been growing. Disability incidence has decreased recently but had risen for a long period of time.
Does COVID-19 Affect Retired or Disabled populations?
Certainly, the pandemic has struck the elderly terribly. There are also indications that many infected people could have long-term effects after recovery from COVID-19. So far, though, these issues have impacted Social Security's finances substantially less than the loss of revenue due to lost wages.
Because of Social Security's size, few things affect it much. For the pandemic, this appears to be true so far. There are about 40 million people over retirement age. One percent of that population would be 400,000 people (the population of New Orleans). The US has had about half that number in COVID-19-related deaths, and most of those were elderly people. By the end of 2020, the pandemic could reduce Social Security's beneficiaries by approximately one percent. That is a tragically large number of people, but it still does not impact SSA as much as the loss of wages.
The overall effect for Social Security's finances is still a loss, and a large one.
Conclusion
This pandemic continues to be terrible. The Social Security Administration has done fairly well to continue its services during this time. However, the situation is difficult. Financially, the economic effects have hurt SSA in the short term. Hopefully Social Security and the country can overcome the pandemic and move forward. For now, like Social Security, we can only do our best.