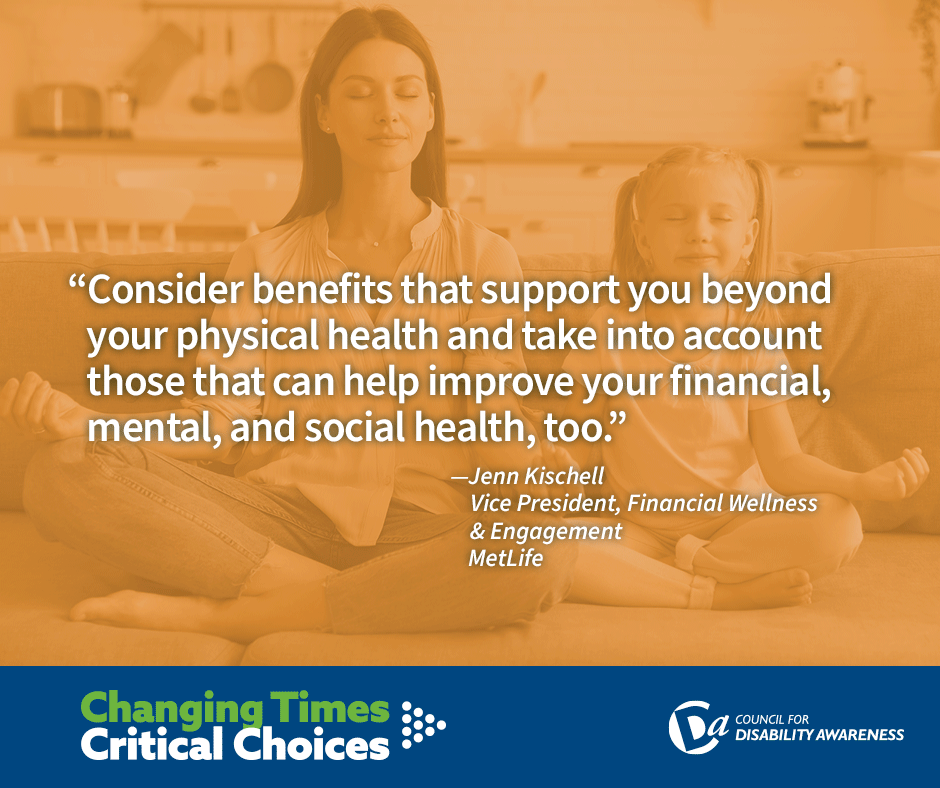 As the coronavirus pandemic continues to impact millions of employees across the United States, nearly half of workers say open enrollment is more important this year. In fact, 75 percent of employees indicate there are benefits they are more interested in this year than last year, according to MetLife's 2020 open enrollment survey.
There is no question that the adversities faced by everyone during 2020 have been a wake-up call to the value of benefits during difficult times. Now, more than ever, it is critical for employees to both maximize their benefits and tailor them to fit their needs. Below are three tips that can improve your benefits enrollment experience as well as your overall well-being and confidence in the future.
Consider benefits that address your holistic well-being.
Having a suite of employee benefits to tap into over the course of the year is key to helping safeguard you and your family. This means taking a holistic approach to selecting benefits: considering those that support you beyond your physical health and taking into account benefits that can help improve your financial, mental, and social health, too.
According to the 2020 open enrollment survey (among the employees who view this year's open enrollment as more important than last year's), many pointed to COVID-19's impacts with 67 percent of employees saying they are nervous about the current COVID-19 crisis or a second wave, 34 percent citing personal financial concerns, and 31 percent saying they are worried about rising healthcare costs.
If these concerns echo yours, you may be interested in benefits that protect your income – like disability and life insurance – or that can help offset out-of-pocket medical costs that your medical plan may not cover, such as critical illness and hospital indemnity insurance.
In addition, a health savings account (HSA), flexible savings account (FSA), or dependent care and commuter benefits might be helpful to you. Also, remember to look for legal plans that provide access to a network of attorneys who can offer counsel across several situations, including estate planning and real estate transactions.
Schedule time before the deadline.
Last year, 1 in 5 workers said they were likely to spend just a few minutes reviewing their annual benefits options. But this year, 40 percent of employees say they will spend more time on their benefits selection. If this includes you, make the enrollment deadline a priority and block time on your calendar now to review your options and get answers to your questions.
Take note of the enrollment information your employer is sharing in advance of the deadline. Employers typically begin to share information about new or changing benefit options before the open enrollment period begins. Review these communications closely, as some employers altered their benefits package to better support employees amid the pandemic, including those who shifted to remote work. Take advantage, too, of support tools and resources your employer is offering that can help you with your decision-making.
At the end of the day, benefits enrollment is the act of investing in yourself and your family in ways that can pay off well into the future.
Seek ways to better understand your company's benefits options.
The adage, "focus on what you can control," is very relevant when it comes to benefits selections. The benefits you choose give you some control in a world that seems to have turned upside down. Yet, it can be challenging to know where to start, particularly with complex decisions relating to benefits such as health care plans. In fact, 1 in 8 employees feels insecure about making good choices.
When assessing your enrollment options, a good first step is to identify your financial goals (as well as your concerns) and enroll in benefits that address these needs. Given that traditional in-person benefit fairs are far less common this year, many employers are offering virtual sessions in addition to one-on-one discussions with a benefits counselor.
Finally, consider turning to trusted peers, friends, or family members for practical advice and insights. Use others' experiences to your advantage and see what benefits may have played a critical role – or may have come in handy – for them, which you can learn from as you think about the future.
During a time unlike any other, it's important to ground yourself in concrete actions you can take to set yourself up for a more confident future. Make sure to make the most of this year's open benefits enrollment.