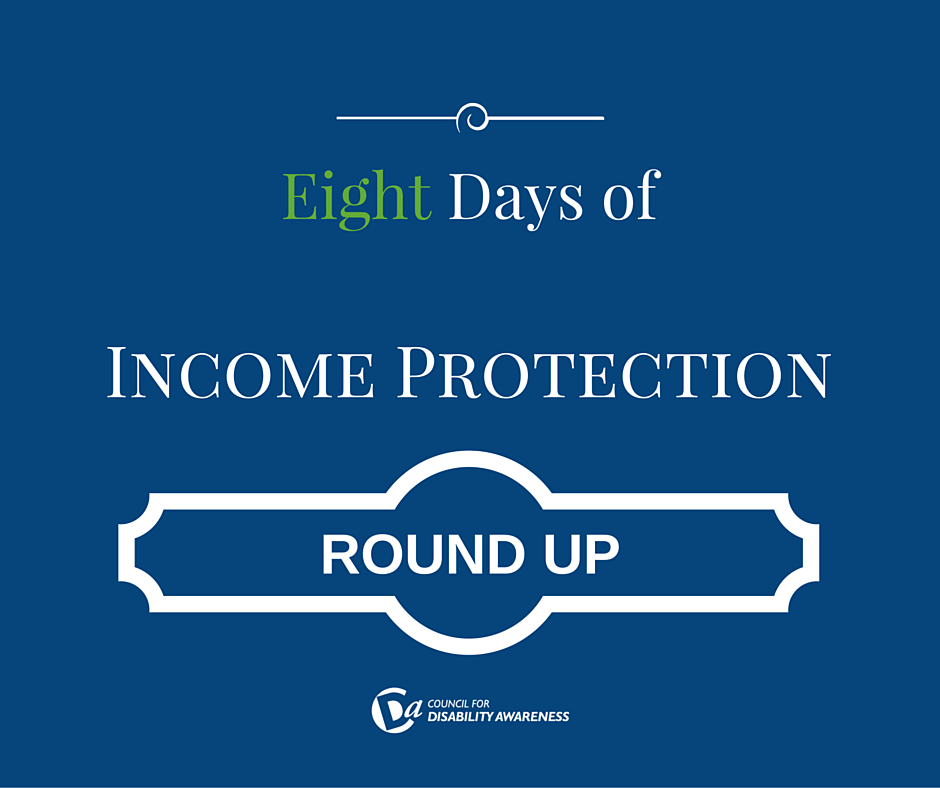 This holiday season, the Council for Disability Awareness was pleased to bring you the "Eight Days of Income Protection." The series, which ended on Friday, aimed to challenge our readers to start 2016 off with a personal finance and income protection plan.
Did you miss any of the posts or perhaps the entire series?
No worries. Today we round-up all "Eight Days of Income Protection" so you can review what you need to know to kick off the new year on the right track financially.
Eight Questions to Ask Before Buying a Disability Insurance Policy
Income protection with disability insurance is essential because your ability to earn an income is your most valuable financial resource. After all, it's your income that makes your current lifestyle, your ability to take care of your family, and your future plans possible. To ensure you get the best coverage for your needs, find out which questions to ask before purchasing a disability insurance policy.
Seven Smart Ways to Save for Your Future
It's never too early to start thinking about your financial security. It's important to do your research and consult with a knowledgeable financial advisor to understand which investments vehicles might be the right choice for you. Learn more about seven savings plans to help you get started.
Six Things You Didn't Know About Long-Term Care Insurance
When you think of long-term care insurance, what comes to mind? Unfortunately, some people hold certain misconceptions or have an unfavorable opinion of long-term care insurance, largely stemming from issues related to its early days. But that was then. Today, there are more options focusing on straightforward and flexible long-term care solutions. Our friends at Life Happens break them down here.
Five Tools to Create a Personal Budget
Creating a personal budget and sticking to it is a crucial step in reaching both short and long-term financial goals. A personal budget is a financial plan which allocates your income toward expenses, debt repayment, savings, and retirement planning. It is an invaluable tool to help you understand your spending habits and save for your future. The process doesn't need to be complicated. In this post we offer five tools you can use to create a personal budget.
Four Steps to Ensure Financial Security and Income Protection
It's important to be smart about your money and on top of your finances to make sure you prioritize financial security and income protection. Find out four steps you can take to do just that.
Three Ways to Get Budget Friendly Long-Term Disability Insurance
Buying a long-term disability (LTD) policy is not unlike buying a car. Most people don't need a car with all of the bells and whistles. They don't need the fancy stereo, the heated seats, or the robot in the dashboard that makes hot chocolate. Similarly not everyone needs a short waiting period, a large monthly benefit, or a benefit period that lasts until retirement, when it comes to long-term disability policies. Since long-term disability coverage quotes are personalized, you can get a price that's right for you. Our friends at Policy Genius share three ways you can reduce your long-term disability quote.
Two Tips for Teaching Kids About Money
Money is an important part of life which means it's extremely crucial to understand it well. Likely, your children won't learn many financial lessons in school, but it's never too early for teaching kids about money at home. Learn two tips for teaching your children about financial responsibility.
And…
One Coverage We All Need
If you depend on your income to pay the bills or support your loved ones, you need disability insurance coverage to protect you financially. Disability Insurance is income protection. A disability insurance policy covers a certain percentage of your income during the time you're unable to work. Many working Americans underestimate their risk of disability which can leave them financially unprepared. The truth is just over one in four of today's 20 year-olds will come to have a disability before they retire. Therefore, we all need disability insurance to make sure our income are protected. Read more about this coverage here.
Now that you're all caught up on what you need to know about income protection and financial security, you're ready to take on 2016. Happy New Year!