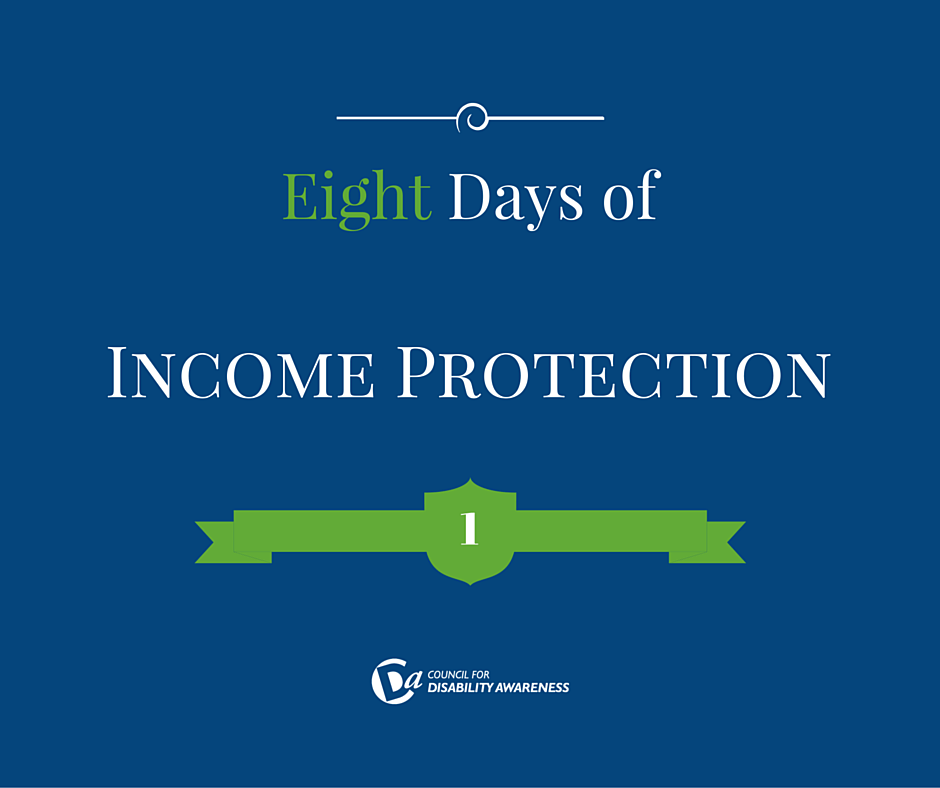 This holiday season, the Council for Disability Awareness is pleased to bring you the "Eight Days of Income Protection". The series aims to challenge our readers to start 2016 off with a personal finance and income protection plan.
On the first day of income protection, we discuss one type of coverage we all need-Disability Insurance.
So, why is Disability Insurance so important?
Disability Insurance is Income Protection
If you depend on your income to pay the bills or support your loved ones, you need disability insurance coverage to protect you financially. A disability insurance policy covers a certain percentage of your income during the time you're unable to work.
Many working Americans underestimate their risk of disability which can leave them financially unprepared. The truth is just over one in four of today's 20 year-olds will come to have a disability before they retire.
Therefore, it's important to make sure you, and your income, are protected.
How to Get Disability Coverage
If you come to have a disability you may be eligible to receive Social Security benefits. However, it's important to note that the average amount of Social Security disability insurance in 2015 is only $1,165 a month. Ask yourself if this amount is enough to protect you financially. If the answer is no, you may need additional coverage to help pay your living expenses if you are unable to work for a period of time.
You can get disability insurance coverage through your workplace. Talk to your employer to understand what type of disability benefits are available to you.
If you become ill or injured and are unable to work for several months, don't assume your employer provides enough disability insurance coverage for you to support yourself and your family.
Even if your employer doesn't offer disability insurance you may still have coverage options through your company. Some employers offer disability insurance as voluntary coverage, which means you can purchase disability insurance at work directly through an insurance carrier. The carrier may have someone come to your workplace to explain the coverage, or may allow you to enroll online. The advantage you gain by buying a voluntary worksite disability policy is — even though you pay the premiums yourself — the costs are generally lower than you could get on your own. You can also take this coverage with you if you decide to leave your employer.
If you're not covered through work, or if the amount of the coverage offered is not enough, you may supplement your insurance through an individual disability policy. While individual coverage is more expensive than coverage you get at work, the policy's plan design offers more advantages such as not reducing your benefit payments if you receive a Social Security Disability Insurance award. Most individual plans pay between 40 percent and 65 percent of your income, according to the Life and Health Insurance Foundation for Education (LIFE).
Types of Disability Insurance
One of the more common questions people have about purchasing disability insurance is around short-term vs. long-term disability insurance.
Short-Term disability policies: This type of insurance kicks in fairly soon after you come to have a disability. Generally, they have a waiting period of 0 to 14 days with a maximum benefit period of no longer than two years. For instance, short-term disability would be useful if you need a surgery to fix a broken arm and you won't be able to work for a few weeks. Another example of short-term disability is maternity leave. If you take time off for maternity leave, this type of coverage pays you money when you have a baby.
Long-Term disability policies: These have a waiting period of usually several weeks to several months with a maximum benefit period ranging from a few years to the rest of your life. If you're looking at a longer recovery, or a more serious condition, this is where your long-term policy will come in. Common causes of

long-term disability

include:
Back pain, or other joint and muscle issues.

Illnesses such as cancer, stroke, or heart disease.

Mental illnesses.
Long-term and short-term disability benefits are often designed so that your short-term disability benefits cover you until you are eligible for long-term benefits.
The Right Coverage for You
Disability insurance is income protection, and income protection is essential for all of us. Therefore, it's important to have enough coverage. Make sure to do your research and consider all your coverage needs. Assess how they fit in with your overall financial plan.Then, work with an insurance agent, ask them all your questions so you can get the best disability insurance coverage for your needs.