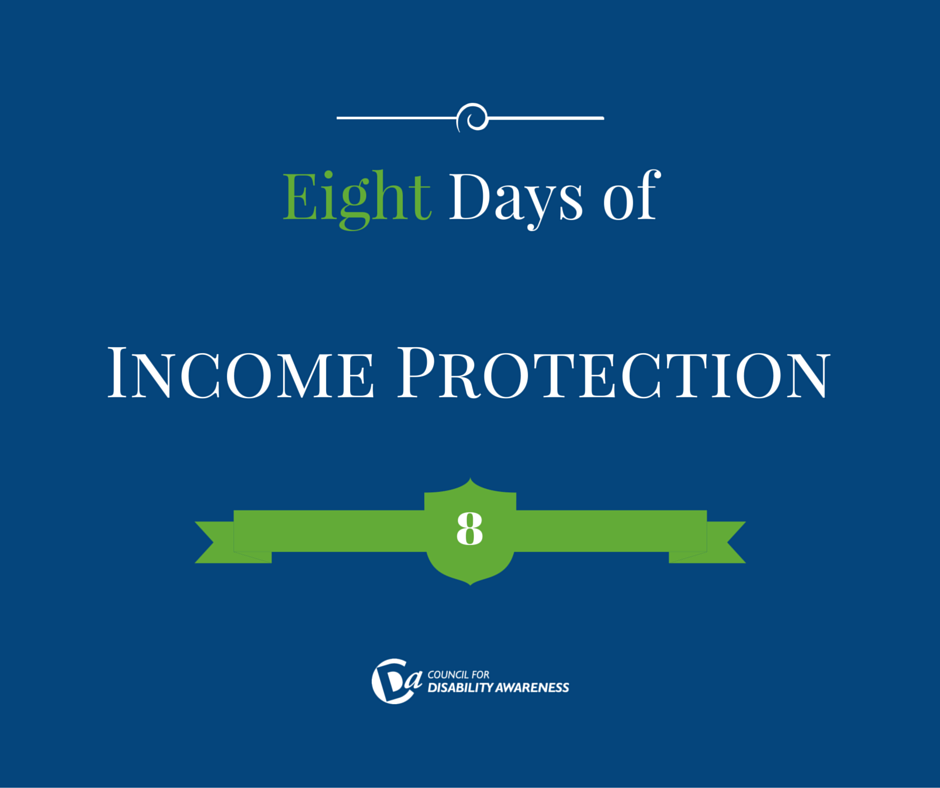 On the eighth and final day of the "Eight Days of Income Protection" we bring you eight questions to ask before buying a disability insurance policy, seven smart ways to save for your future, six things you didn't know about long-term care insurance, five tools to create a personal budget, four steps to ensure financial security and income protection, three ways to get budget friendly long-term disability insurance, two tips for teaching kids about money, and one coverage we all need.
Protecting your income with disability insurance is essential because your ability to earn an income is your most valuable financial resource. After all, it's your income that makes your current lifestyle, your ability to take care of your family, and your future plans possible.
To ensure you get the best coverage for your needs, ask yourself the following questions about disability insurance.
When Will Payments for a Disability Begin?
Generally, most long-term disability policies do not begin paying benefits immediately—the time you must wait for benefits to begin is known as the "elimination period" or "EP." The most common elimination period lengths are 30 days, 90 days, or six months after a disability occurs. A longer elimination period usually means a lower premium.
How Long Will My Payments Last?
Similarly, a disability insurance policy will specify the maximum length of time benefits can last. Typical options are two years, five years, 10 years, or until retirement. The longer the maximum benefit period, the higher the premium will be, but the better you'll be covered against unexpected events in life.
How Much of My Income Will be Replaced?
A disability insurance policy will generally not replace all of your income as your insurer will want to maintain a financial incentive for you to return to work. Policies typically range from 40 percent to 65 percent of your pre-disability earnings at the time of purchase.If you earn commissions and bonuses, these are normally not included.
Make sure to ask whether the policy has scope to increase benefits in the future, due to inflation or increase in your income. You may be able to add a cost-of-living adjustment to a policy that increases by a specified percentage after each year of disability. While this option is often expensive, it can be vital to maintain your standard of living if you're out of work for a long period of time.
What Disabilities Are Covered?
Every policy will have a "definition of disability" that explains what must happen in order for you to qualify for benefits. The key is whether a disability stops you from working, and what type of work it stops you from doing.
For example, a policy with an "own occupation" definition will pay benefits if your disability stops you from doing the job you had at the time of disability. However, a policy with an "any occupation" definition will pay benefits if your disability prevents you from doing any work for which your education and experience are appropriate.
While many variants exist, they are generally based on one of these concepts or some combination of the two.
What Type of Disability Coverage is Offered?
There are several different types of disability insurance coverage.
Employer paid "group" coverage: Employers often, but not always, offer both

short-term disability and long-term disability coverage

. Short-term disability benefits kick in first, and can be useful to cover you for things like a broken arm that keeps you out of work for a few weeks. These benefits are then replaced by long-term disability benefits for longer illness or injuries, such as chronic back pain, cancer, or mental illness.
Employer-sponsored coverage paid for by the employee: This type of coverage is sometimes known as "worksite" or "voluntary" plans.
Individual disability coverage: You buy this type of policy on your own (outside of your workplace) or sometimes through membership in an association.
The type of policy you buy will be dictated partly by whether your employer offers disability benefits. If they provide employer-paid coverage, there's unlikely to be a reason not to sign up, and you may be automatically enrolled.
Even if your employer offers coverage but you have to pay the premiums yourself, it's likely to be more affordable than individually purchased coverage, and may also have less extensive underwriting requirements.
If you don't have coverage at work, or if you determine that your employer plan does not fully meet your needs, you may want to purchase an individual policy. This comes with additional benefits—you'll be able to keep your policy if you leave your job for any reason, and you'll have more control over what options are included in the plan. An individual policy is generally more expensive and will be subject to medical underwriting.
Do I have to Pay Taxes on My Benefits?
If your employer pays the premiums, it's important to note that your benefits, should you come to have a disability, will be subject to income taxes. If you pay the premiums yourself, generally your benefits would be tax free.
What Factors Affect the Cost of My Premiums?
Several factors can affect the cost of premiums in a disability insurance policy:
Age: The younger you are, typically the lower your premiums.

Health history: You're more likely to pay higher premiums or even find it hard to buy insurance if you have a health history of many medical problems.

Occupation: The nature of your job can dictate your premiums. For example, if your job carries a higher risk of injury or is more physically demanding, you'll generally pay higher premiums than a less physical or danger job.

Current income: The more money you make, the higher the amount you would expect to receive in benefits, which means your disability insurance policy will become more expensive.
Note that the plan features we discussed earlier, such as length of benefits and elimination period, can also affect cost. Additionally, in a group policy the impact of some of these factors is reduced, for example where the review of your health history is simplified or waived, or where you have a limited set of options from which to choose.
Is the Disability Insurance Policy Portable?
Your group policy through your employer most likely will not be portable, but you may be able to take your individual policy with you when you move jobs.
Each disability insurance policy can vary in its terms and conditions. Therefore, it's important to review them very carefully. This is where an insurance agent can be a valuable resource. They can help you understand the language in your policy, explain the specific terms and conditions, and guide your decision around which disability insurance policy is right for you.