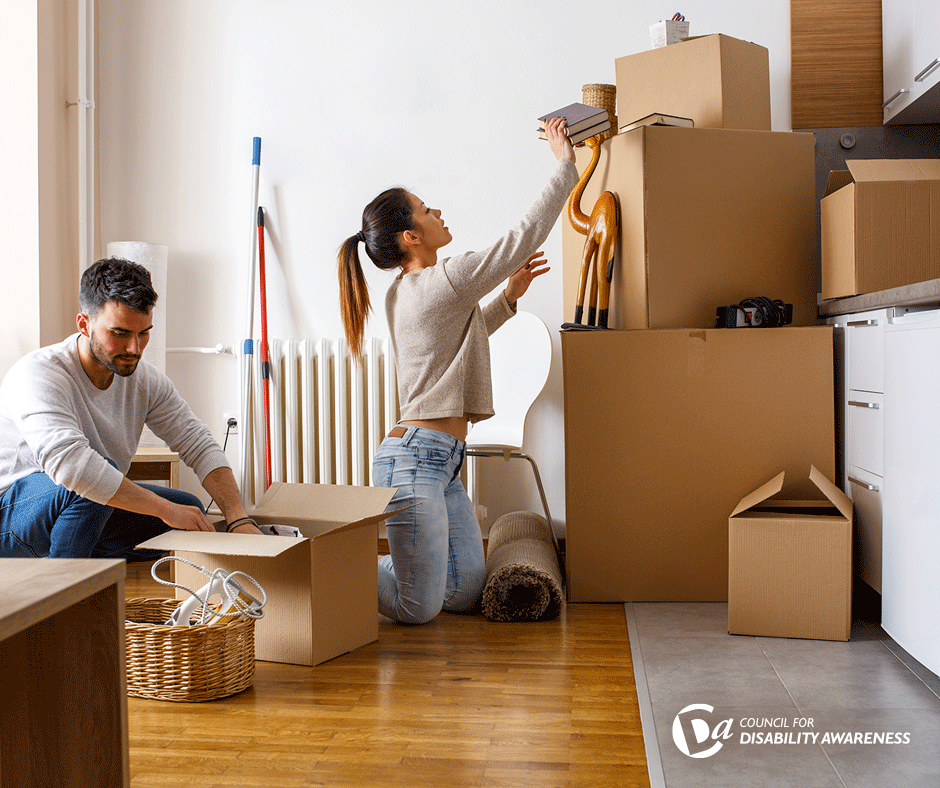 By Ann Lloyd, Student Savings Guide 
If you're looking for work and considering a relocation to find or take a new job, there's a lot to think about! For people with disabilities, there are extra considerations as well, depending on the nature of the disability, including mobility or anxiety issues. Before you commit to accepting a job in a new location, it's a good idea to think about exactly where it is you want to go, what the region offers, and what the move will require, including any resources or transportation options available to you. Here are six tips for addressing relocation issues before you take the leap:
1. Research affordability of the area
Before you decide to move, be sure you can afford your new location. When you're considering it, keep in mind that cities like San Francisco or New York are extremely expensive places to live, and your salary offer should reflect that. Even if you take a small hit in salary, a more affordable city might put more money in your pocket and offer you a better quality of life. A $40,000-a-year job won't buy you a closet in San Francisco, but it might give you a spacious home in a city like Phoenix.
As you make your decision, be sure to create a moving budget that includes your income and an estimated list of expenses. Don't forget to factor in unscheduled or emergency costs that might pop up. Ensuring that your expenses are covered (and allowing some extra cash for buffer) will help you to determine if a relocation strategy is a smart one financially.
2. Ask about relocation assistance
Ask whether your new employer offers any relocation assistance programs. Moves are expensive, and taking advantage of any resources available will significantly decrease these costs.
According to a job relocation survey sponsored by moving company Allied, about 26.4% of employees receive some level of reimbursement or assistance from their employers; 15.75% receive a temporary stipend for living expenses; and 12% were offered a small sum for discretionary spending. Roughly 9% received money to cover miscellaneous costs associated with moving. While many employers do offer assistance, the survey also found that roughly 30% of companies offer no help at all.
While you may not get assistance, it certainly can't hurt to ask. If you obtain at least some monetary help, you can factor this into your moving budget.
3. Know what local resources are available 
You're probably familiar with all the resources available to you in your current area, but moving to a new location can be intimidating. Be sure to research the city you're considering as your new home; look at specific neighborhoods and the workplace itself ahead of time. Pay close attention to transportation options and the accessibility of any support services you might need.
Remember, by law, employers are not allowed to ask about your disability. Discuss only what's necessary. Additionally, educate yourself on your rights under the ADA (Americans With Disabilities Act) and get familiar with the local resources available to you.
4. Keep safety in mind
A long-distance move can be physically demanding. Most people move without issue, but you never know when an accident or health situation might occur. Health and safety are extra-important considerations if you need to accommodate a disability during your move.
Be sure you pack a first-aid kit and keep it easily accessible at all times. Make sure all medications and assistive equipment are packed in an easily identifiable and accessible container, and kept handy during packing and moving. It's also helpful to know basic safety and CPR, in the event it does become necessary if someone is injured.
5. Know and grow your credit 
If your credit is a little on the low side, you should work to improve it before you start looking for housing. Landlords will use it to determine your ability to pay rent (and how large a security deposit you'll be required to put down). Lenders will look carefully at your score, and how they perceive your financial risk will play into how much of an interest rate they'll give you on a mortgage.
Even if you always pay your bills on time, monitoring and building your credit rating is a good idea. You might not immediately know if your credit card number or identity has been stolen. If your credit standing drops unexpectedly, this would be a quick indicator something is amiss. Dealing with any form of theft, be it credit or identity, is stressful and disruptive; the sooner you detect a problem, the easier it is to fix it.
6. Plan to store possessions 
Whether your relocation will be permanent or temporary, you might have possessions you don't want to move into your new home. For instance, if the gig is only for a year, you might not want to do a full-fledged move. Or if you don't have the financial resources for a large apartment or you're waiting to buy a house, you might need to put some belongings in a storage facility on a temporary basis.
Finding a safe and secure place to store your possessions is a great way to simplify your move, relieve worry about your stuff, and ensure your things are accessible when you do have the room or need to use them.
Deciding whether or not to relocate for a job can bring about a big life change. It's not a decision you want to make lightly, so be sure to look at your new situation from all angles to help you to decide whether relocating for a job is the right move for you.