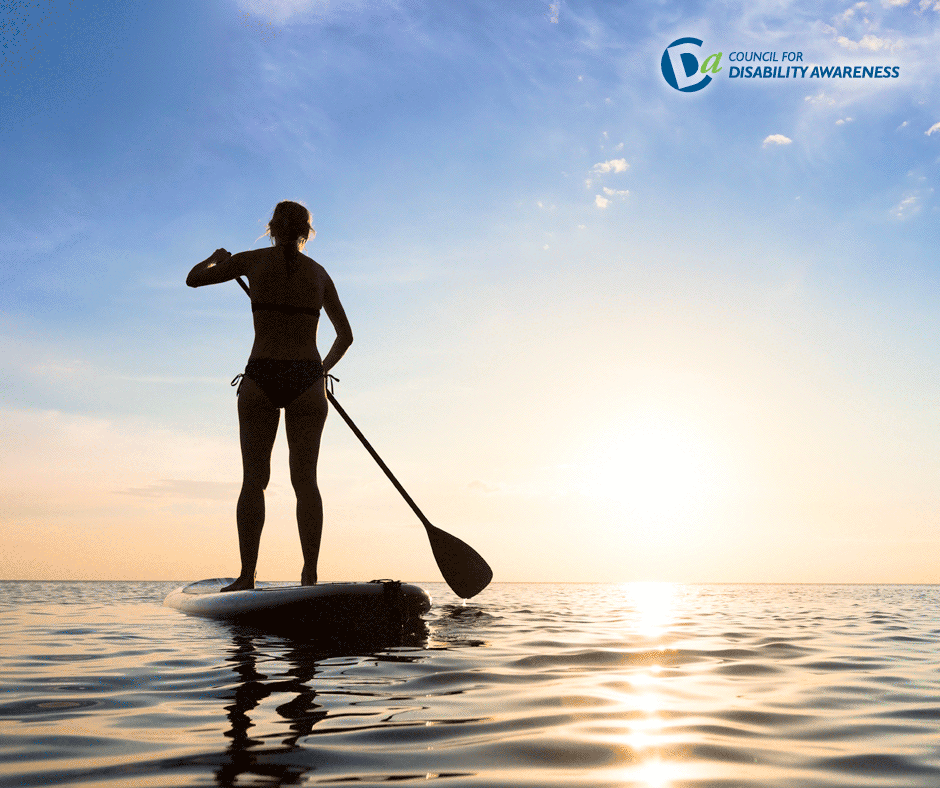 Wherever there's a lake, ocean bay, or placid river, you're likely to see people on stand up paddleboards (SUP). This fast growing sport let's you cruise or even surf on the water while standing at your full height. It's a great way to explore the natural world.
Paddle boarding offers a complete body workout that can help improve balance, core strength, cardio fitness, flexibility and overall body tone. The secret to learning is technique, not strength. With some basic gear and simple instructions, you can start enjoying this fun way to be on the water.
What You'll Need:
The best way to get started is to take lessons and rent equipment from a SUP retailer or rental store. They'll show you how to use the gear and make sure you have the right sized board and paddle, and they'll make sure you know the essential skills for being safe on the water. If you don't have a shop nearby, have an experienced friend take you out on the water or take advantage of the many online videos and SUP introduction tutorials. Be sure to start out on very calm water, on a day with little or no wind. As with any new sport, start out easy and take time to build up your skill and conditioning.
Paddle Board:
Many rental shops will provide you with a stable, larger beginner board for your first time on the water. Renting a board is a good way to learn the basics before buying your own. The size of the board is determined by your size, weight, and skill. Board shapes and sizes also vary by the kind of water you want to paddle on – from calm lakes to ocean surfing or river whitewater. High quality, inflatable paddle boards are also increasingly popular for people who don't want to transport a board on roof racks.
The Paddle – Use Your Core:
Unlike canoe or kayak paddling, you paddle a SUP standing upright. To paddle efficiently, don't rely on your arms. Instead, you'll keep your arms straight and use your torso to do most of the work. Simply using your arms won't provide much power and could be very tiring. With practice, you'll discover it's easy to paddle in a relatively straight line by alternating strokes and learning to use your core.
PFD (Personal Flotation Device):
Stand up paddle boards are classified as vessels by the U.S. Coast Guard, so you are required to always have a PFD with you, except for ocean surfing. Today, many SUP paddlers use a fanny pack or over-the-neck, inflatable style of PFD. The pack has a single-use Co2 cylinder that is inflated when needed by pulling a cord. If you prefer using a more traditional flotation vest, there are many adjustable vests that have no bulk at the sides to make paddling easy. Whichever style you choose, make sure it's comfortable so that you will wear it!
SUP Clothing:
You're going to get wet so wear a bathing suit, or quick drying shorts and t-shirt in mild conditions. Avoid cotton clothing because when wet, it can rob heat from your body. In cooler conditions, wear a wet suit rated for the water temperature you'll be paddling in. Remember that weather conditions can change quickly even on a small pond, so dress in multiple layers. If you plan to be on the water much longer than thirty minutes, have a small water bottle or hydration system with you.
Leash:
Your SUP can also be an important flotation device and a leash will keep you tethered to it when you fall off. SUP leashes are designed for different water uses, so chose a leash that's specific to flat water, rivers, or surf.
Sun Protection:
Water resistant sunscreen and sunglasses (polarized is best) with a lanyard should always be worn. Wear a hat with a visor and use lip balm with sunscreen, too. You may also consider a lightweight rash guard to minimize sun exposure.
What's Next?
Once you've learned the basics, there are many ways to enjoy stand up paddling. If you're ready to buy a paddle board, you'll find SUPs designed specifically for all-around paddling, fishing, doing yoga, touring long distances, ocean surfing, and even racing. When buying a board, be sure to consider how to safely transport on your car or truck and where to store it when not in use. Your board and paddle are made for the water, but are more fragile if tossed around on land.
Start Paddling!
Cruising a lake, stream, marsh, or ocean bay offers you a way to be surrounded by nature and to enjoy a moment alone. But SUPs are also a great way to share the outdoors with friends and family members of all ages. No matter where you go paddling, you'll discover it's one of the most enjoyable ways to have fun, relax, and improve your health and strength.