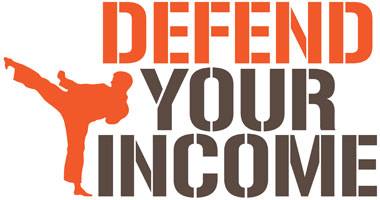 LifeHappens and all of the Council for Disability Awareness member companies have spent the month of May recognizing Disability Insurance Awareness Month.
We are all working together to bust myths about disabilities and disability insurance.
Most importantly, DIAM has been a chance to help people learn how common it is to have a disability that leaves you out of work for a few weeks or a few months and why it is so important to protect your income.
But as the month comes to a close, we want to go out with a bang.
Announcing the Protect Your Income Trivia Showdown!
All of this week, we'll be taking to social media to give away limited edition mugs with the Protect Your Income Trivia Showdown.
All you have to do to enter is answer a trivia question—and we'll even give you really good hints in the questions themselves. 
If you want to play along with our Protect Your Income Trivia Showdown (and of course you should), you can head to the Protect Your Income Facebook page or @IncomeDefender on Twitter.
How to Enter the Protect Your Income Trivia Showdown
We know it's a holiday week, but it's easy to play!
Every day during this last week of Disability Insurance Awareness Month, starting today at noon ET, look for the Protect Your Income Trivia Showdown questions.
There are two ways to win:
Facebook: Be the first with the right answer to comment on the Facebook post and you'll be the winner!

Twitter: To enter on Twitter, tweet at @IncomeDefender with the right answer using both of the hashtags #DIAM and #Sweeps. The hashtags are important, so don't forget them!
How to Win
Look for two Protect Your Income Trivia Showdown questions per day on Facebook and two per day on Twitter all this week.
If you're first with the right answer, we'll reply to you to get your email address so we can get a mailing address for your mug.
It's that easy!
If you have any questions, just ask them here or on Facebook or Twitter. Eleanor Pierce is running social media so ask her for help.
Good luck!
Disclaimer Time
Now, for the disclaimers—we know they're no fun to read, but they have to be done.
PROTECT YOUR INCOME TRIVIA SHOWDOWN OFFICIAL RULES. 

The Protect Your Income Trivia Showdown is sponsored by the Council for Disability Awareness ("Sponsor"). This sweepstakes is governed by these official rules ("Official Rules"). By participating in the sweepstakes, each entrant agrees to abide by these Official Rules, including all eligibility requirements, and understands that the rules of the sweepstakes, as determined by Sponsor and its agents, are final in all respects. The sweepstakes is subject to all federal, state, and local laws and regulations and is void where prohibited by law. 

This sweepstakes is in no way sponsored, endorsed, or administered by, or associated with, Facebook or Twitter. Any questions, comments or complaints regarding the promotion will be directed to Sponsor.

ELIGIBILITY. 

The Sweepstakes is open to legal residents of the United States who are 18 years of age or older at the time of entry who have Internet access and a valid e-mail account prior to the beginning of the Sweepstakes Period. Sponsor has the right to verify the eligibility each entrant.

SWEEPSTAKES PERIOD. The Sweepstakes begins May 26, 2015, at 12 p.m. ET and ends May 29, 2015, at midnight ET. All entries (submissions) must be received on or before the time stated during that submission period. Sponsor reserves the right to extend or shorten the sweepstakes at their sole discretion.
HOW TO ENTER. You can enter the Sweepstakes through the Sponsor Facebook Page or via Twitter. Entrants can enter by commenting with the correct answer to the trivia question on the Facebook posts that include trivia questions or by tweeting correct answers to the trivia questions posted to the account @IncomeDefender using the hashtags #DIAM and #Sweeps.
WINNER SELECTION. The first eligible entry received during the submission period will be chosen the winner. It is the winner's responsibility to assure that privacy settings allow Sponsor to find entries and contact the winner in order to collect an email address through which the distribution of prizes will be coordinated. If a potential prize winner cannot be reached by Administrator (or Sponsor) within fifteen (15) days, or if the prize is returned as undeliverable, that potential prize winner shall forfeit the prize.
PRIZES. One mug will be awarded to an entrant per question each day of the sweepstakes period. Prizes will be sent via U.S.P.S. within one month of the end of the sweepstakes period.
Terms and conditions may apply.
By entering, each entrant agrees to release and hold harmless Sponsor and Affiliate companies, Facebook, Twitter, and all their respective officers, directors, representatives and agents from any liability, damagers, losses or injury resulting directly or indirectly from the Entrant's participation in the sweepstakes and the acceptance, use or misuse of any prize that may be won. Sponsor and its Affiliate companies do not make any warranties, express or implied as to the condition, fitness, or merchantability of the prize.
Image: The Council for Disability Awareness