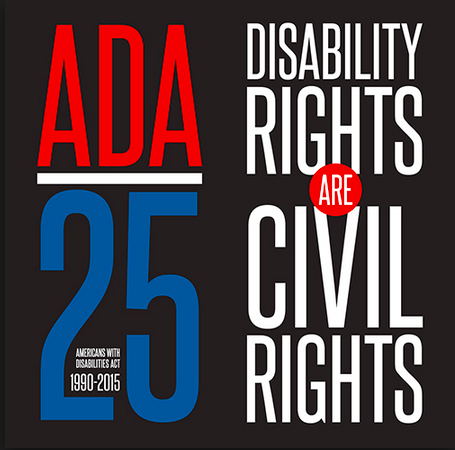 By Daris Freeman, assistant counsel, Unum
Walking into work today, I passed the reserved parking spaces close to the door, stepped up the curb cut, watched as the wide automatic door opened for a colleague, and felt the Braille labels on the elevator buttons.
Once in the office, I saw a coworker using technology for the hearing-impaired and another with screen adaptors on her computer monitor to accommodate vision problems.
As an employee of a disability insurer, I expect my workplace to be welcoming for people with disabilities. But the accommodations I see around me today are found in work and public places nationwide, from the smallest offices to mid-size retailers to large industrial complexes, and in schools, libraries and shopping malls.
It's hard to imagine our lives without these support features for people with disabilities. For this, we can thank the Americans with Disabilities Act (ADA), which turns 25 at the end of July 2015. This legislation banned discrimination against people with disabilities (or people who were perceived to have a disability) and required business, buildings, transportation, public transportation and other services to accommodate the disabled. In 2008, the ADA Amendments Act (ADAAA) further broadened and clarified the definition of disability and tried to strike a balance between employer and employee interests.
The Americans with Disabilities Act and the Workplace
The disability insurance industry works tirelessly to help people who experience unexpected illnesses and injuries that result in a break from work—a break that sometimes lasts weeks, months, or years. We see firsthand how frustrating it can be to manage the limitations that sometimes remain after an illness or injury. But, we also see hundreds of thousands of people who want to make the most of their capabilities and get back to work.
The resources available to help people with disabilities in the workplace are many. The need for accommodations enforced by the Americans with Disabilities Act drove advancements over the last two-and-a-half decades in everything from office furniture to assistive technology.  Although people assume these accommodations are costly, the Department of Labor says nearly 60 percent cost little to nothing with the rest averaging about $500.
The Census Bureau indicates one in five of us has some type of a disability, and this is expected to increase as Americans continue to age. The broad definitions of disability under ADAAA include diminishing vision and arthritis, for instance, and may require our workplaces to adjust in ways they haven't in the past.
Working Together for Greater Opportunity
Despite significant progress since the passage of the Americans with Disabilities Act, we still have work to do to overcome hurdles to more fully integrate employees in the workplace. We focus on these challenges daily and work closely with business leaders to help them understand their obligations under the law and the value of these investments in their employees.
If you'd like to learn more about the Americans with Disabilities Act, visit the Office of Disability Employment Policy at the Department of Labor.