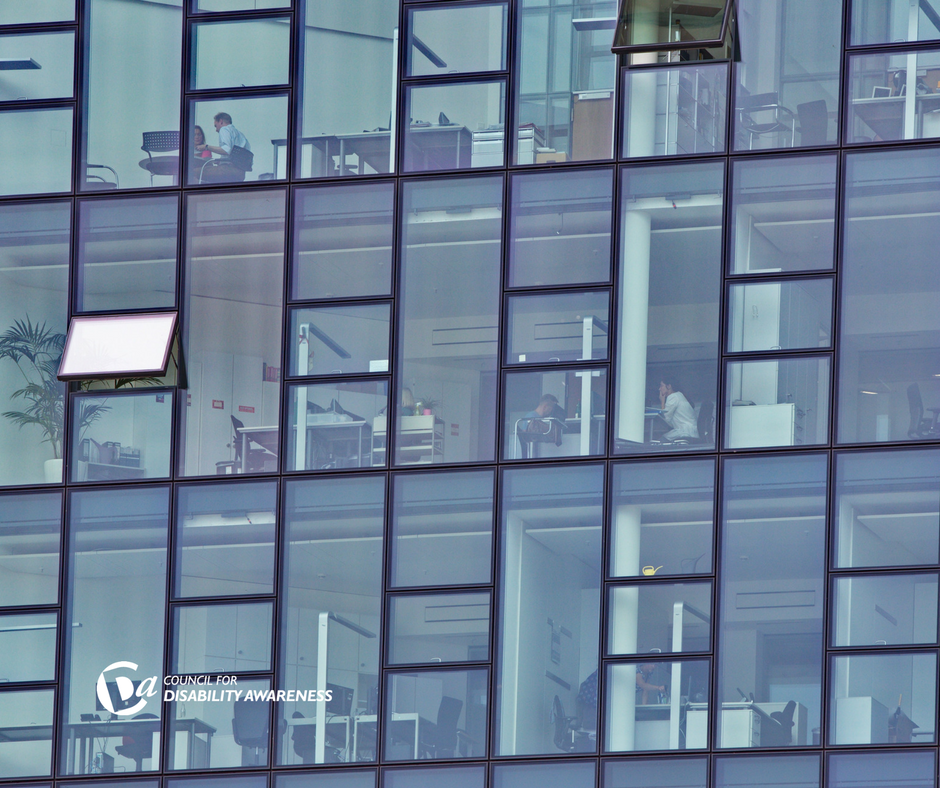 Recovering from a foot, knee, or ankle injury that inhibits your mobility? You're not alone.
A 2012 study found over 6.6 million people experienced knee injuries between the years 1999 and 2008. Combine that with an earlier report from the Center for Disease Control which shares that roughly 20% of nonfatal injuries males experience are to the leg or foot, with that rate being even higher at 25% for females.
Lower extremity injuries are particularly difficult. They can impair your ability to walk and leave you relying on a mobility aid like crutches.
People with knee, leg, or foot injuries may find difficulty in returning to work and navigating the office accordingly.
It's difficult to move around closely-spaced cubicles or simply trying to open the bathroom door without falling over.
These tips for getting around the office with impaired mobility can help.
Avoid Common Office Hazards
Using a walker or crutches to get around requires coordination and vigilant awareness of your surroundings and path.
Offices can be ridden with common trip hazards like wet and slippery floors, curled up carpet corners, loose cables, cords and plugs, and small objects in narrow pathways like trashcans and briefcases. Landing your crutch at even the slightest angle on an object on the floor or catching it on a cord can have you on the floor fast. And worse yet, it can exacerbate an injury.
Be careful and be aware.
Consider trading workspaces in your office with a co-worker closer to the entrance temporarily to avoid having to walk through more of the office. And think about investing in more durable crutch tips. These are the pads that slip onto the end of your crutches and provide traction and stability.
Look for Accessories
A large part of the problem with getting around on crutches or with a walker is simply having no hands to carry anything. That goes for your purse, keys, phone, water bottle, you name it.
Accessories like crutch pouches and walker bags attach with straps to your mobility aid. Then, you can pop anything you need in there to carry with you. You can find them—and additional accessories like water bottle holders and attached lighting—online or in some pharmacies.
Skip the Crutches
Crutches have historically been the go-to mobility aid for alleviating your weight-bearing foot after a foot or ankle injury.
Advancements in assistive mobility technology, however, has ushered in a new era of design and engineering that is more suited for enhanced maneuverability.
Broken leg scooters (or knee scooter walkers) are the latest development in mobility aids, offering a sturdy 4-wheeled device where you rest your "recovering" leg up and back on a pad at a 90 degree angle, push off and walk with your good leg, and steer with bicycle-like handles.
Buddy Up
Have a best work friend who is willing to do your bidding temporarily? Recruit them to assist you while you recover to get around. A trip to heat up your lunch in the microwave can seem exhausting when you're doing it on crutches. Ask a coworker to help.
Opening and closing heavy doors is tough and can throw you off balance. Instead of going it alone, ask a coworker to arrive and leave with you at the office.
When you're back to your regular mobility, give them a thank you card with a small token of your appreciation like a gift card or travel mug.
Work from Home
You can't afford to use all your sick days while you recover. But can you complete your work from home while you recuperate?
GlobalWorkplaceAnalytics.com shares that "50% of the US workforce holds a job that is compatible with at least partial telework and approximately 20-25% of the workforce teleworks at some frequency."
If this sounds like it could be you, talk to your manager about a temporary remote solution. This will make it easier for you to complete work (since getting around is so much harder and time-consuming). Plus, it it will make your time spent working more efficient than if you had to organize transportation and hobble around the office.