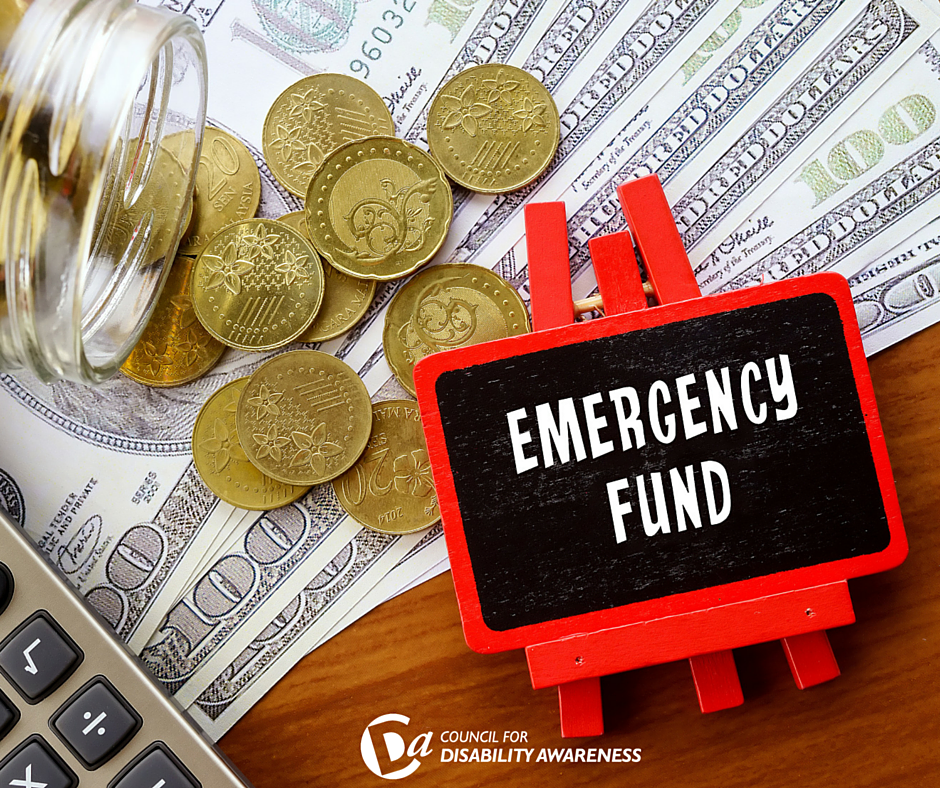 Has the shock of The Federal Reserve System's Report on the Economic Well-Being of U.S. Households in 2015 shocked you into getting serious about building an emergency fund?
If you have not read the blog we posted prior to this one, here is a statistic from the report that may be the impetus for immediate action and lifestyle change:
Forty-six percent of adults say they either could not cover an emergency expense costing $400, or would cover it by selling something or borrowing money.
This is attention-grabbing and a potential wake-up call for building an emergency fund.
Building an Emergency Fund   
Ok. Financially, things are tight. We understand.
However, if you want to be part of the population that can weather these aforementioned storms, there are two ways to go about building an emergency fund: 1) You must lower expenses; and 2) You must raise income. Here are some ways to do each.
Emergency Funds  
All of us will face a financial crisis at some point in our lives. Some will be short-term like paying to fix a leaky roof. There are others that last much longer like unemployment or medical costs for an extended illness.
Building an emergency fund should be near the top of your personal financial checklist, no matter what stage of life you find yourself in. (Suze Orman even goes as far as to say, "If you have an unpaid credit card balance [and] not much saved up in emergency savings, I need you to listen up. My advice has changed. I want you to only pay the minimum due on your credit card balance, and instead, make it your top priority to build as much of an emergency cash fund as you can.")
Access to an emergency fund can turn a financial crisis into a financial inconvenience.
Build an Emergency Fund by Saving
Maintain a spending book: This is where it starts. Track your spending for a month, every cent. At the end of the month, sort your spending into categories and evaluate carefully. Examine every dollar that isn't going to necessities. Then interrogate your necessities. Try one of these budget apps if you prefer not to use pen and paper.
Eliminate budget busters. Cable TV, yup. Go without it. There must be sacrifice: Brown bag it, make coffee at home, lower thermostat, and shop second hand. All small changes add up.
Renegotiate everything. Everything is negotiable. Call up all your service providers, and ask for better rates. Tell your bank you want to pay less interest on your credit card. If they say no, shop around. 
Bank the savings. Make depositing the money you save into your emergency fund part of your routine.
Watch your money grow.
Build an Emergency Fund by Earning More
The above cost cutting is only half the equation. Now it is time to increase earnings.
Sell something: Take some time to look around the house. You will be amazed at how many items you could convert to cash.
Find one-time income opportunities: There are lots of chances to do some quick work and earn money inside and outside your home.
Get a second job: None of us likes the thought of pulling extra hours when we're already tired. But even a couple of weeks of an extra job can make a huge difference.
Sign up for focus groups: Marketers and pollsters pay for your opinion. Visit a site like FindFocusGroups.com, and earn $50 to $150 just for speaking your mind.
Watch your money grow.
Disability Insurance
Another shocking statistic revealed by the Fed's report was the following:
Twenty-two percent of respondents experienced a major unexpected medical expense that they had to pay out of pocket in the prior year, and 46 percent of those who say they had a major medical expense report that they currently owe debt from that expense.
Disability insurance covers individuals who have lost the ability to generate a paycheck. Some of whom answered the above statistic might be part of that category.
Once you have your emergency fund healthy and established, your next task is purchasing disability insurance, because there are few things more important than protecting against the loss of your earning capacity.  
The Task of Fiscal Responsibility
Yes, you are correct, financial preparedness and fiscal responsibility is a long-term, consistent, ongoing endeavor. But it is the difference between those who can afford a $400 dollar expense and those who cannot.
And the ability to sleep soundly at night is priceless.