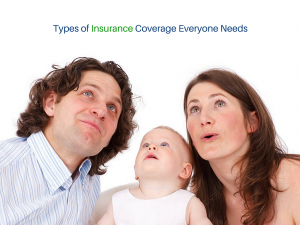 There are several reasons why we all need insurance coverage.
Most people work hard to build a solid financial future for themselves and their loved ones, so we want to make sure we are protected financially.
When the unexpected like an accident or injury happens, expenses can add up very fast.
Paying for all these costs out of pocket can quickly dwindle your life's savings.
The right insurance coverage can protect your life, your ability to earn income, and keep a roof over your head.
Here, we explain why you may need the following types of insurance coverage.
Life Insurance Coverage
Having a life insurance policy can help protect your family when they may need it most.
If your loved ones will suffer financially when you die, chances are you need a life insurance policy to help support your family after your death.
There are several types of life insurance coverage including:
Term life

Universal life

Variable life

Whole life
Read more about the pros and cons of each type of insurance coverage here to determine which policy is best for you.
Disability Insurance Coverage
If you depend on your income to pay the bills or support your loved ones, you need disability insurance coverage to protect you financially.
A disability insurance policy covers a certain percentage of your income during the time you're unable to work.
Many working Americans underestimate their risk of disability which can leave them financially unprepared.
Statistics show 64 percent of wage earners believe they have a two percent or less chance of getting a disability for three months or more during their working career.
However, the truth is just over one in four of today's 20 year-olds will come to have a disability before they retire.
Therefore, it's important to make sure you, and your income, are protected.
Here are some guidelines to help you get the right disability insurance coverage.
Health Insurance Coverage
Having health insurance coverage is important because medical bills can become a huge financial burden if you or your loved ones become ill.
A serious illness or health problem can bankrupt even high earners.
Health care costs are a huge problem in America. Unpaid medical bills are among the leading causes of bankruptcies in America.
Choosing the right health insurance coverage can ensure you and your family will be financially protected.
Ask yourself these questions when choosing a health insurance plan suitable for you.
A Homeowners Policy
If you own a home, you should have insurance coverage under a homeowners policy.
Your house is one of the biggest investments you'll make in your lifetime. Therefore, it's important to make sure your investment is protected through a homeowners policy.
A homeowners policy protects your home against damages to the house itself, or to the possessions in the home.
Homeowners insurance can also provide liability coverage against accidents in the home or on the property.
Read about the four essential types of coverage in a standard homeowners policy here.
If you don't own a home but rent one, make sure to understand the coverage provided by your landlord. Generally, your landlord is only responsible for insuring the property against damages caused by fire and other disasters.
So, it's important to protect your personal property through renters insurance coverage.
Auto Insurance Coverage
If you own a car, you must have auto insurance coverage.
In most states, you are required by law to carry some level of auto insurance coverage.
Even if you live in a state which doesn't mandate auto insurance, this type of insurance coverage is crucial. It can give you peace of mind because it will protect you financially if you get in a car accident.
Even simple dents and scratches on the vehicle can cost hundreds to thousands of dollars. If you need to add medical expenses for any injured passengers, you could face a bill worth tens of thousands of dollars.
These costs can be significant and it can all add up pretty fast.
If you caused the accident, without any auto insurance coverage, you would be solely responsible for all the damages.
To protect yourself against these expenses, you must own auto insurance coverage.
Getting The Best Insurance Coverage For You
As you can see there are many types of insurance coverages as well as many factors to consider within each type of policy.
Take the time to consider all your coverage needs, and how they fit in with your overall financial plan.
Then, work with your insurance company, ask them all your questions regarding the different types of insurance coverage, so you can make sure to get the best policies for your needs.