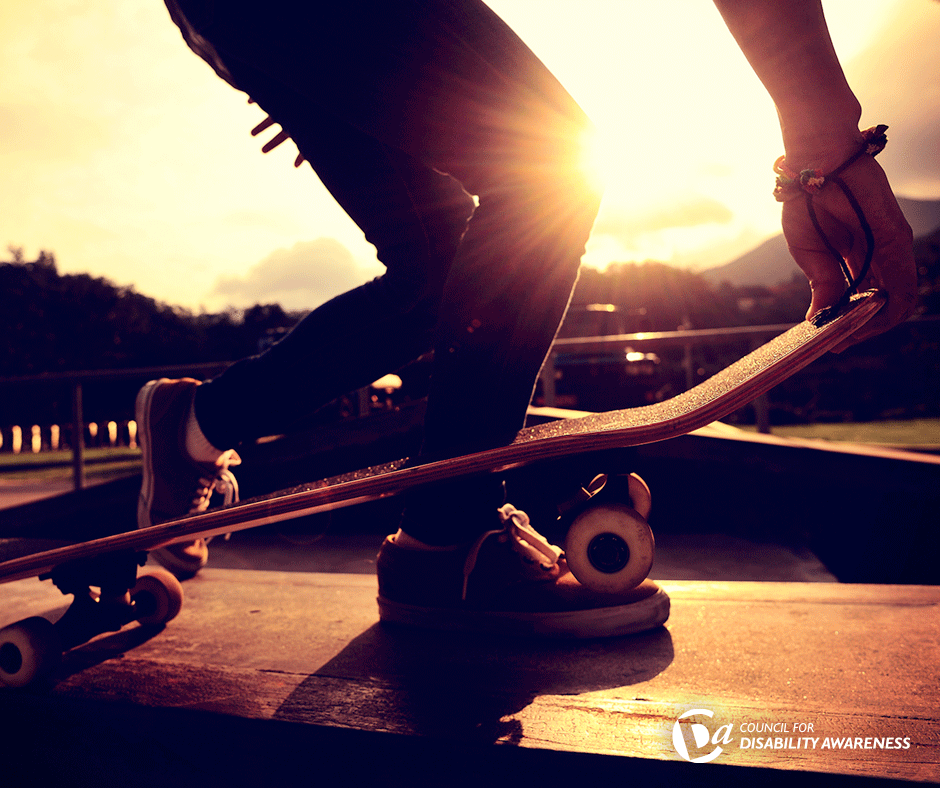 When the quick care doctor who was stitching up my elbow asked how I fell in the parking lot, he broke into a smile when I said "skateboarding."
I'm over 60-years and reasonably "fit." But, "smart" came into question that day. Being active and over 60 had lulled me into some overly casual choices, such as not wearing elbow pads while riding a skateboard.
Luckily, an elbow was all the doctor had to stitch up. The helmet and wrist guards I had on really protected me. I felt lucky to have avoided more serious injury.
As a small business owner, our company has good short and long-term disability plans. It was reassuring to know that if a more serious injury kept me out of work, I was covered –even for skateboarding at my age.
In my teens, I loved to skateboard. But today, I'm very aware of my limited skills. So why continue to pursue skateboarding?
According to the National Safety Council, skateboarding is relatively safe when people wear the right equipment. Bicycle riding, basketball, soccer, and softball statistically have more estimated injuries.
A bicycle rider can easily travel three times faster than a skateboarder, and reduce the risk of injuries with a good helmet. Yet, in addition to a helmet, skateboarders should wear wrist guards, knee and elbow pads to stay safe. And unlike bike riding, skateboarders are far more at risks on streets. It's much safer to ride at skate parks or areas without vehicles and pedestrian traffic.
Not surprisingly, skateboard injuries decrease as riders get older. Most severe skateboard injuries involve children under age 15 who are attempting tricks, according to the American Academy of Pediatrics. But is there an age at which we're too old to ride a skateboard? Search the internet and "the fifties" seems to be the end point to start learning how to skateboard. To ride safely after 50, there is little science, but a lot of common wisdom that focuses on being fit, riding a wider 'longboard' with softer wheels, wearing protective gear, and avoiding busy streets.
There are a lot of older skateboarders who continue riding into their 60's and 70's. Some get together to ride, like the Skateboard Moms & Shredders – a non-profit group promoted by AARP and seen on Good Morning America, CNN, and NPR. Riders like these however, are a notable exception.
Is there a better alternative? If you haven't seen one yet, you'll soon see an electric skateboard in your area. Electric skateboards are similar to typical skateboards, but they have compact electric motors and batteries that make it easy to commute or ride up to 30 miles, even up hills. They also have brakes to slow down safely. So called E-boards are controlled by a handheld remote control and some E-boards can be ridden off pavement on paths and gentle terrain.
It's easier to learn to ride an Electric skateboard, but they still require the rider to wear safety gear. They're very appealing, though they cost much more than regular skateboards. What's missing is the non-motorized benefits of greater physical exertion and activity.
So, what to do? You know the saying: "if you stop doing something you love because you think you're too old, you'll get old". That's a debate I'm going to have to carefully consider in the coming weeks. For now, I've ordered elbow pads and a stable longboard. However, before heading out, I may have to watch more videos of the Skateboard Moms to get inspired.