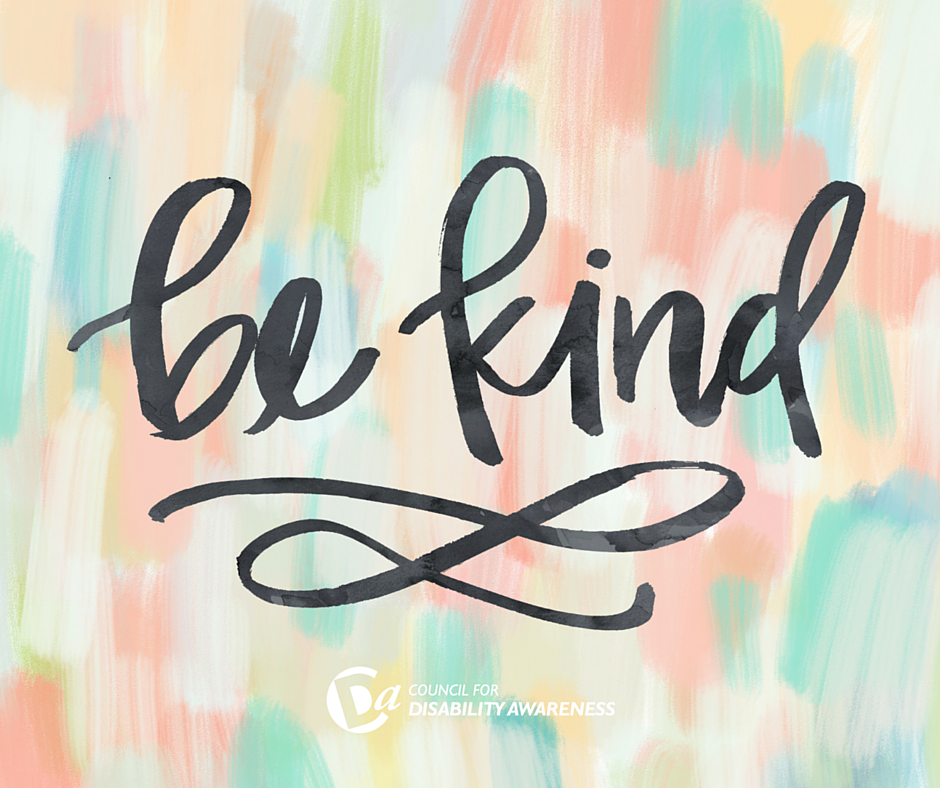 "Sticks and stones may break my bones but words can never hurt me," serves a lesson to youth in some respects. It informs them that if they are called a name, they have the ability to choose not to be harmed by words. That is fine up to a point, but it dismisses the great power of words.
Words and the language a society uses can help shape both conscious and unconscious beliefs. Therefore, today we discuss identity-first language as opposed to person first language in the context of disability.
People with disabilities are people who have individual abilities, interests, and needs. They are moms, dads, sons, daughters, sisters, brothers, friends, neighbors, coworkers, students, and teachers. About 54 million Americans have a disability.
People with disabilities are our nation's largest minority group. Everyone is represented: all genders, ages, religions, socioeconomic levels, and ethnicities. The disability community is the only minority group that anyone can join at any time.
Person First Language (or People First Language)
Person first language is used to speak appropriately and respectfully about an individual with a disability. Person first language emphasizes the person before the disability. For example, when referring to a person who has a disability, people first language uses phrasing such as: "a person who …", "a person with …" or, "person who has…"
Here are samples of person first language methods for communicating with or about people with disabilities.
Correct: Person with a disability; Incorrect: The disabled, handicapped
Correct: Person with an intellectual, cognitive, developmental disability; Incorrect: Retarded, slow, simple, moronic, defective, afflicted, special person
Correct: Person with an emotional or behavioral disability, person with a mental health or a psychiatric disability; Incorrect: Insane, crazy, psycho, maniac, nuts
Correct: Person who is hard of hearing; Incorrect: Hearing impaired, suffers a hearing loss
Correct: Person with epilepsy or seizure disorder; Incorrect: Epileptic
Correct: Person with multiple sclerosis; Incorrect: Afflicted by MS
Correct: Person with cerebral palsy: Incorrect: CP victim
Correct: Person of short stature; Incorrect: Midget
Notice the sentence structure of person first language: the speaker verbalizes the concept that the disability is a secondary attribute—not a defining characteristic of a person's identity.
However, there are individuals who have a critique of this language philosophy. They espouse the use of identity first language.
Identity First Language
Identity first language is close to the opposite of person first language. Identity first language puts the disability or disorder first in the description (e.g. an "autistic person").
Cara Liebowitz is one of many who prefer identity first language. She shares her thoughts on her blog entry: I am Disabled: On Identity First Versus People First Language.
"Though person-first language is designed to promote respect, the concept is based on the idea that disability is something negative, something that you shouldn't want to see. After all, no one tells me that I should call myself a person with femaleness or a person with Jewishness. I'm a Jewish woman. No one questions that.
Yet when I dare to call myself a disabled person, it seems the whole world turns upside down. That's because gender and religion are seen as neutral, if not positive, characteristics. The idea of separating the disability from the person stems from the idea that disability is something you should want to have separated from you, like a rotten tooth that needs to be pulled out."
Another Identity First Language Advocate Writes
"Consider how PFL intentionally separates a person from their disability. Although this supposedly acknowledges personhood, it also implies that "disability" or "disabled" are negative, derogatory words.
In other words, disability is something society believes a person should try to dissociate from if they want to be considered a whole person. This makes it seem as though being disability is something of which you should be ashamed. PFL essentially buys into the stigma it claims to be fighting."
Sticks and Stones
There is the obvious argument that names and language can hurt much greater than the broken bones created from sticks and stones.
Whichever side of the debate you come down on, you cannot go wrong if you remain courteous, respectful, and observant that a disability is not a person. A person is a person.
Image Credit: Shutterstock