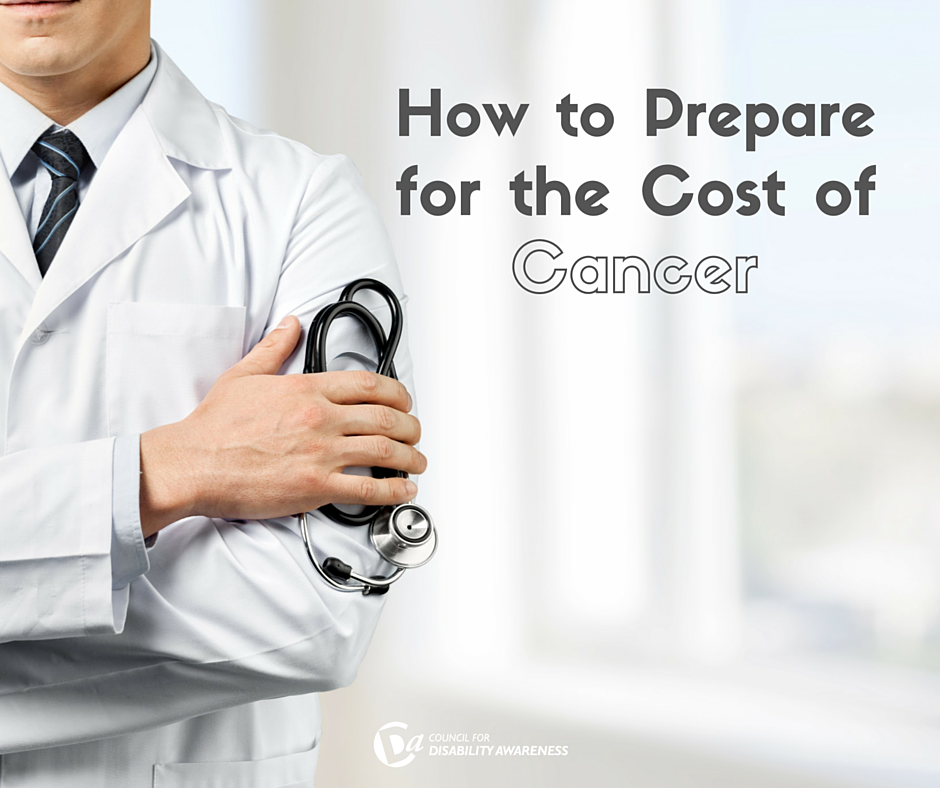 You feel unwell, so you go to the doctor. You wait for a diagnosis… It's cancer. What do you do? It's impossible to predict what effect cancer will have on your life, but you can (and should) take steps to prepare for the cost of cancer.
It Could Happen to You
Odds are, you've already been affected by cancer in some way. We all know someone who has battled cancer – or we eventually will. It's predicted that more than 1.6 million new cases of cancer will be diagnosed in the United States this year.
With such high odds of receiving a cancer diagnosis at some point throughout your life (especially if you have a family history), it's wise to make a plan to prepare for the cost of cancer. It's much more than just a financial consideration.
Prepare for the Cost of Cancer with Insurance
It's no secret that cancer treatment is not cheap, and that soaring costs can take an enormous emotional and physical toll on patients.
Worrying about finances is the last thing you want to think about if you're dealing with cancer, so it's critical to thoroughly review the ins and outs of your current health insurance coverage. What treatments and medications are covered? Does your insurance company have a cap on how much they will pay? Do you see any obvious gaps?
If you're unsure about anything, talk to your insurance company and get answers.
Add More Insurance As Needed
If your current coverage seems limited in terms of seeing you through a potentially long-term illness or helping you prepare for the cost of cancer, you might want to consider adding more insurance. You can add a cancer insurance policy, coverage for critical illness, or prepare for the unknown with disability insurance.
The more coverage you have, the more control you have over protecting your money and your family's assets.
Get a Ballpark Estimate of Treatment Costs
Identifying costs is notoriously difficult in the mysterious, often mystifying world of health care pricing. But once you receive a diagnosis, you can work with your doctor and insurance provider to come up with a ballpark estimate of how much your course of treatment may cost.
Identifying ahead of time what you know will be covered and what will most likely be out-of-pocket will enable you to come up with a financial gameplan.
Know Your Rights at Work
Balancing cancer treatment with work can be exceedingly tricky. Depending on your diagnosis, method of treatment, and occupation, you may or may not be able to continue working throughout your treatment. Regardless, people with cancer have protections in the workplace. You cannot be fired for being sick and you have the right to reasonable accommodations.
Get familiar with your rights guaranteed by the Americans with Disabilities Act, and what those with cancer are entitled to regarding the Family Medical Leave Act.
Prepare for the Emotional Toll
Making a plan to prepare for the cost of cancer is obviously about much more than financial considerations. Battling cancer can be an epic physical, spiritual, and emotional battle.
You can prepare for the emotional toll of fighting cancer by asking plenty of questions, reading about strategies to cope, and learning about potential side effects. You may also want to seek out support from family, friends, and others who are either fighting your same battle or have dealt with cancer in the past.
For your sake and for the ones who love you, take some time to prepare for the cost of cancer.
Image Credit: Shutterstock