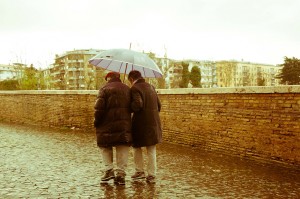 If an accident or illness happens to you, do you have enough or even any disability insurance coverage to protect you financially?
If you answered no, you're not alone.
Many working Americans underestimate their risk of disability which can leave them financially unprepared.
Statistics show 64 percent of wage earners believe they have a two percent or less chance of getting a disability for three months or more during their working career.
However, the truth is just over one in four of today's 20 year-olds will come to have a disability before they retire.
Of the total population, there are 37 million Americans with disabilities (about 12 percent) and more than 50 percent of these individuals are in their working years ranging from 18-64 years of age.
Therefore, if the unexpected should occur leaving you unable to work, it's important to understand what options you have when it comes to disability insurance coverage.
If you depend on your income to pay the bills or support your loved ones, disability insurance coverage can protect you financially. A disability insurance policy covers a certain percentage of your income during the time you're unable to work.
Here, we provide some guidelines to make sure you, and your income, are protected.
Disability Insurance Coverage Through Your Employer
First, talk to your employer to understand what type of disability insurance coverage is available to you.
If you become ill or injured and are unable to work for several months, don't assume your employer provides enough disability insurance coverage for you to support yourself and your family.
According to a study we conducted, an increasing number of employers have dropped disability insurance coverage for workers. In 2009, the number of employers providing long-term disability insurance decreased 1.2 percent, in 2010 it dropped another 0.6 percent, and in 2011, the figure rose just slightly.
An uncertain economy and rise in health care costs may be two important factors for this decline.
However, even if your employer doesn't offer disability insurance you may still have coverage options through your company. Some employers offer disability insurance as voluntary coverage, which means you can purchase disability insurance at work directly through an insurance carrier. The carrier may have someone come to your workplace to explain the coverage, or may allow you to enroll online. The advantage you gain by buying a voluntary worksite disability policy is — even though you pay the premiums yourself — the costs are generally lower than you could get on your own. You can also take this coverage with you if you decide to leave your employer.
If you're not covered through work, or if the amount of the coverage offered is not enough, you may supplement your insurance through an individual disability policy. While individual coverage is more expensive than coverage you get at work, the policy's plan design offers more advantages such as not reducing your benefit payments if you receive a Social Security Disability Insurance award.
According to a report by the Consumer Federation of America in April 2012, premium payments for disability insurance coverage, whether paid for by the employer, employee, or a combination of the two, range between $10 and $30 a month.
Buy Disability Insurance Coverage On Your Own
If your employer does not offer disability insurance coverage, you can buy a policy on your own. Usually, you can take the policy with you if you change jobs.
If you are unable to work due to a disability, most individual plans pay between 40 percent and 65 percent of your income, according to the Life and Health Insurance Foundation for Education (LIFE).
Look for Gaps in the Disability Insurance Coverage
Even if you have some disability insurance coverage through your employer, it may not be enough.
For example, disability insurance coverage offered through your employer usually doesn't cover bonuses or commissions.
If a significant portion of your total income is based on bonuses or commissions, the amount of benefits you would receive through your employer's plan might not be enough to pay your bills like your mortgage, car payments, and utilities.
In this case, you should buy a policy on your own which would provide the extra coverage you wouldn't receive from your employer.
Don't Count Entirely on the Government
The Social Security Administration initially denies two-thirds of all disability claims. Even if you're able to receive Social Security benefits, the average monthly payment may be low. On average, the Social Security disability insurance in 2015 is $1,165 a month. Therefore, you may need additional coverage to protect yourself financially if you are unable to work for a period of time.
If you follow the above mentioned guidelines, you and your family will have enough disability insurance coverage for your essential living expenses if you become ill or injured and are unable to work.