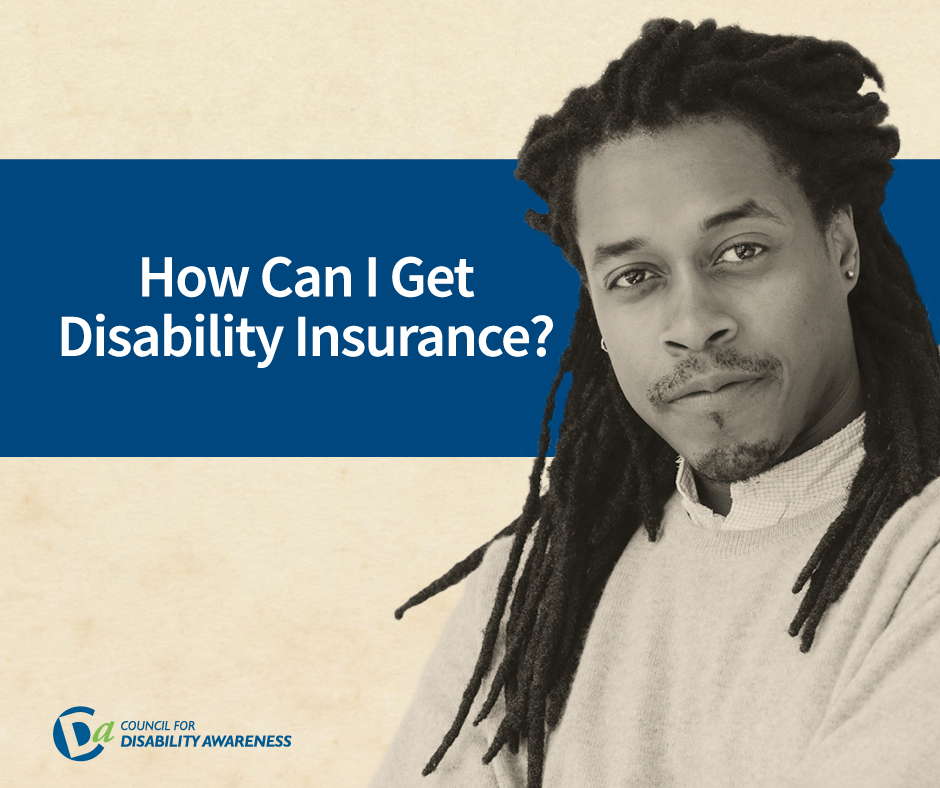 Disability insurance is one of the most important forms of insurance for working Americans. The financial expert Dave Ramsey calls it "a necessity." It has been described as a valuable benefit by NPR while NBC News calls it "more important for singles than just about anyone."
Having a form of income protection for when you're injured, ill or pregnant is part of a solid financial plan. But how do you go about actually getting a policy? 
Here are your next steps:
1. Talk to your employer
If you have a full-time job, you may already have access to private disability insurance. According to the Bureau of Labor Statistics, at least half of U.S. non-government employees have disability insurance. So start by talking to your HR manager. 
Here are a few things you can ask:
If they offer disability insurance, is it employer-paid, employee-paid, or a combination of the two?

The general rule is, if your employer pays some or all of the premium, then some or all of any benefits you collect will be taxable to you. Your employer may offer a voluntary plan where you will need to pay the entire premium. However, it grants you access to better rates — and any benefits you collect will not be taxed. Ask how much it costs and how you can sign up for it.

What is the benefit amount for the policy?

It won't be your full salary, as your employer wants some incentive for you to return to the job. Policies generally range from 40 to 70 percent of your salary.

How long will my payments last?

A policy will indicate the maximum length of time that benefits will last. Long-term disability insurance may cover anywhere between two years through retirement age.

When will payments begin?

This will depend on whether it's short-term or long-term disability insurance. Both types of coverage include waiting periods. A waiting period is the time between when you leave work to have your baby or you are diagnosed with a condition that prevents you from working, and when payments begin.

What is the policy's definition of disability?

The definition of disability varies among policies and carriers. Some consider it related to you not being able to perform the duties of your specific job while others take into account your training and experience. You may carry a policy that pays you if you can't perform your "own job," "own occupation," or "any occupation" that reasonably matches your knowledge, training and experience.

If you don't have access to disability insurance at work:

Ask why not. You could ask whether they would consider starting a voluntary policy for employees.
2. Talk to your financial advisor
If you aren't currently offered disability insurance at work, or the amount they are offering won't cover your basic living costs, consider purchasing individual insurance.
Your financial advisor or insurance agent will be able to help you identify the amount you need, the most suitable amount of time you'd want to receive payments, and which plan makes the most sense for your unique needs.
If you're self-employed or a business owner, this is definitely something you should consider. (More on that here.)
3. Talk to associations
You can also access more affordable rates for disability insurance through a plan offered to members of a professional society — for example, the American Institute of Certified Public Accountants or the Freelancer's Union — or a college alumni association. If you're already a member of such an association, ask about their disability insurance offerings. 
4. Visit RealityCheckup.org
In the spring of 2018, The Council for Disability Awareness launched a new consumer microsite that unpacks what disability insurance is, why you need it, and how to get it. Visit the site to learn the language associated with various policies, and find useful links. You can also listen to CDA experts discussing the topic on radio talk shows.
5. Talk to our member companies
The member companies of The Council for Disability Awareness formed this nonprofit organization solely to educate consumers, employers, and financial advisors about working adults' risk to be out of work for a period of time without a paycheck. View the member organizations here.
6. Lock in your coverage
The thing about accidents, illness and injury, is that you have no idea when they will happen. So this is the sort of policy you'll want to lock in sooner rather than later. Bear in mind that like life insurance, your rates will also be cheaper the younger you are. By securing a policy now, you can relax knowing that a safety net is in place.