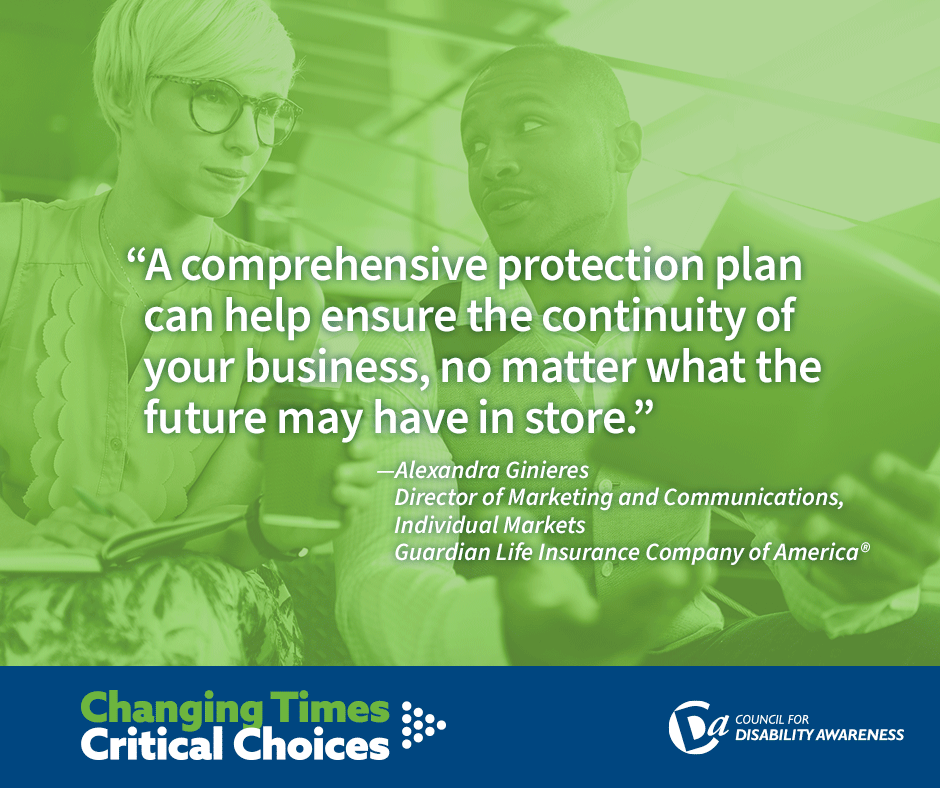 It has been a year of uncertainty across the United States and the world, and now more than ever, many small businesses are at risk. The number of small business owners had been steadily increasing in the United States, but after April, that number decreased drastically (yet with a partial rebound in May).1 Despite small businesses providing approximately half of the jobs within the private sector of the United States, those jobs were some of the most vulnerable, especially for companies with fewer than 100 employees.2
Expect the unexpected
If the pandemic has taught us anything, it's that the unexpected can happen. And although hindsight is always 20/20, many business owners may now wish they put the proper protections in place. When the unexpected, such as an injury or illness, suddenly occurs, small business owners may be greatly affected, both personally and professionally. And the chances are higher than many people realize, as one in four workers will become disabled during their working years.3
The financial ramifications can be great
Think about the investment you've made in your business. How long could you continue to operate if a disability should strike? According to a recent survey of 5,800 small business owners, about 25 percent of respondents reported having cash on hand equaling less than one month's worth of expenses. Approximately 50 percent of those surveyed would be equipped to cover between one and two months of expenses.4
For many business and practice owners, their firm provides their current income, which funds their lifestyle. But whether making sure bills are paid, payroll is met, or the business itself is running smoothly, small business owners face numerous challenges, both known and unknown. That's why the right disability protection for your business and for you, personally, can help you to avoid a potentially devastating financial loss.
Be sure to consider these key components of a robust business and personal protection plan:
Overhead Expense
As the owner of a business, you are responsible for overseeing and managing your firm's ongoing expenses. Unfortunately, your costs won't stop if you become injured or too sick to work. Overhead Expense (OE) Disability Insurance can help business owners during their disability period by covering ongoing expenses for a business until the disabled owner can return to work or has the resources to sell the business. OE will cover location, payroll, and equipment expenses, as well any loans related to operating the business.
Business Loans
Despite a disability striking, business loan payments will continue to be due. For that reason, many small business owners elect to cover fixed-term business loans in addition to OE Disability Insurance. Business loan protection is in place for the duration of the loan's term, allowing you to continue making loan payments, even if you are unable to work due to a disability.
Business Partnerships
Continuity is critical in the business world, so if you or a business partner find yourself unable to work, you'll want to be prepared for the associated challenges. Disability Buy-Out Insurance allows you and your partner to protect your business by providing the funding for a buy-sell agreement that can help remove uncertainty over the future of your firm in the event either of you becomes disabled. As the owner of a small business, be sure to have an open conversation with your business partners and financial representative, and take the necessary precautions to be prepared in the event a disability occurs.
Key Person Coverage
Within a business, top-performing and essential employees are critical to its ongoing success. Should one of these employees find themselves unable to work due to a disability, you'll want to make sure that your business is prepared to continue operating. Key person disability insurance can benefit your small business if one of your key employees is unable to work due to an injury or serious illness. Insuring these valuable individuals is just one more way to protect your business and can help to minimize your firm's risk in the long term.
Personal Income Protection
While your role as business owner and advocate for your firm is certainly top of mind, personal income protection is also key. An individual disability insurance policy helps you protect the financial health of your family by replacing a portion of your income if you become disabled due to an illness or injury. This type of individual coverage offers protection for you personally, in addition to any coverage on your business.
Face the future with more confidence
Disability protection for yourself and your business is a critical aspect of preparing for the unexpected, and that's why it's essential to find the right plan. A comprehensive protection plan can provide you with a valuable safety net that can help ensure the continuity of your business, no matter what the future may have in store.
If you need help considering the best options, consult a financial professional who can help you identify your unique goals – and the steps you can take to better protect your business today.
1 Dua, A., Jain, N., Mahajan, D., & Velasco, Y. (2020, August 07). COVID-19's effect on jobs at small businesses in the United States. Retrieved October 08, 2020, from https://www.mckinsey.com/industries/public-and-social-sector/our-insights/covid-19s-effect-on-jobs-at-small-businesses-in-the-united-states
2 Fairlie, R. (2020). The Impact of COVID-19 on Small Business Owners: Continued Losses and the Partial Rebound in May 2020. Stanford Institute for Economy Policy Research.
3 Source: Social Security Administration Fact Sheet, December 2019
4 Source: "The impact of COVID-19 on small business outcomes and expectations," Proceedings of the National Academy of Sciences of the United States of America, July 28, 2020, https://www.pnas.org/content/117/30/17656
Material discussed is meant for general informational purposes only and is not to be construed as tax, legal, or investment advice. Although the information has been gathered from sources believed to be reliable, please note that individual situations can vary. Therefore, the information should be relied upon only when coordinated with individual professional advice. Links to external sites are provided for your convenience in locating related information and services. Guardian, its subsidiaries, agents and employees expressly disclaim any responsibility for and do not maintain, control, recommend, or endorse third-party sites, organizations, products, or services and make no representation as to the completeness, suitability, or quality thereof.  Individual disability income products underwritten and issued by Berkshire Life Insurance Company of America (BLICOA), Pittsfield, MA or provided by Guardian.  BLICOA is a wholly owned stock subsidiary of and administrator for the Guardian Life Insurance Company of America (Guardian), New York, NY.  Product provisions and availability may vary by state.
GUARDIAN® and the Guardian Logo® are registered trademarks of The Guardian Life Insurance Company of America. ©Copyright 2020 The Guardian Life Insurance Company of America, New York, N.Y.
2020-110991 (Exp. 10/22)