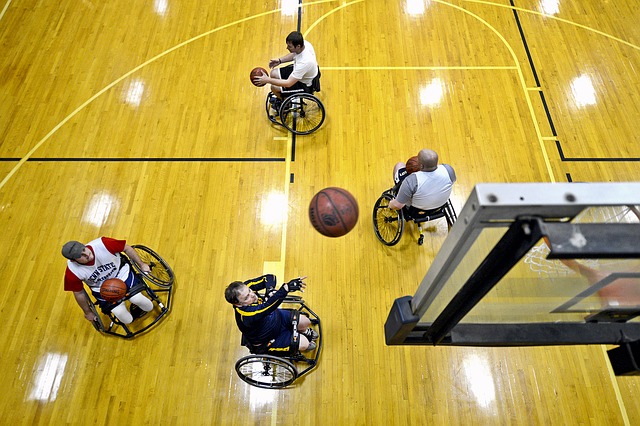 Playing sports is valuable in everyone's life, especially so in the lives of athletes with disabilities.
Sports can have rehabilitative influence on the physical body as well as teach independence. Athletes with disabilities participate in high performance as well as in competitive and recreational sport.
Athletes With Disabilities Participate In Many Sports
The number of people with disabilities involved in sport and physical recreation is steadily increasing around the world with organized sports for athletes with disabilities divided into three main disability groups:
Sports for the Deaf

Sports for people with physical disabilities

Sports for people with intellectual disabilities
Since the late 1980s, organizations have started to include athletes with disabilities in sporting events such as the Olympic Games and Commonwealth Games. However, athletes with disabilities also play many sports outside of formal sports such as:
Wheelchair basketball

Wheelchair dancing

Weightlifting

Swimming
Athletes With Disabilities Inspire Millions Every Day
Sport can inspire people in many ways including:
Giving them dreams of becoming an athlete one day.

Influencing them on how to approach every day decisions.

Equipping them with life-changing skills.
Here, we showcase four incredible athletes with disabilities who inspire millions every day in the ways mentioned above.
Bethany Hamilton, the Professional Surfer
Raised in Hawaii, Bethany is a surfer who began competing professionally as a young girl. When she was 13 years old, she lost her arm in a vicious stark attack. However, only one month later, her determination and positive attitude brought her back on the surfboard.
Two years later she won first place in the Explorer Women's Division of the NSSA National Championships.
In 2011, her story was shared with millions of people through a major motion picture called Soul Surfer.
Jason Lester, the World-Class Endurance Sports Champion
Jason swims, rides, and runs incredible distances as an Ironman and Ultraman without the full use of his right arm. When Jason was 12 years old, he was in a car accident which paralyzed his right arm.
In 2009, he was named the ESPY award winner for "Best Male Athlete with a Disability." He was also the first male triathlete to win such an honor.
In addition to numerous championships, he's the author of Running on Faith, an autobiography which details his success story.
Melissa Stockwell, Paralympic Games Champion
Melissa is a war veteran with the U.S. Army who lost her leg when a roadside bomb exploded during a convoy. She is a Purple Heart recipient, Paralympian, Paratriathlete, and an above the knee amputee.
In 2008, she competed in the Paralympic Games for the U.S. team in which she became the record holder for the 100 meter butterfly and the 100 meter freestyle.
She also became the face of the Hartford U.S. Paralympics Partnership ad campaign.
Anthony Robles, Wrestling Champion
Being born without a leg didn't stop Anthony Robles from becoming a national high school and college wrestling champion.
In March of 2011, he won the NCAA championship title for the 125-pound weight class division.
Today, Anthony Robles remains an inspiration to everyone. He told the Wall Street Journal, "I didn't get into the sport for the attention. I wrestle because I love wrestling. But if I can help change somebody's life for the better…"
These athletes with disabilities are truly an inspiration to millions showing us anything is possible. As Melissa Stockwell says "I can really do anything I want to do, missing leg or not."